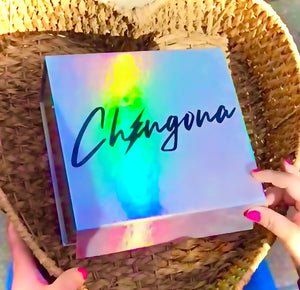 I will personally be putting together a Chingona box with mystery goodies just for you! Packages can be a combination of shirts, stickers, earrings, necklaces, pins, bracelets, notebooks, signs, koozies, totes, purses, mugs, sweatshirts, keychains, candles, signs, sunglasses and other items that can be one of a kind, new items,  soon to be released etc!! 
Chiquita Box⚡️ $35 - (minimum value $60)
Medianita Box⚡️$50- (minimum value $100)
Chingona Box⚡️$100- (minimum value $200)
Chingonota Box⚡️$200- (minimum value $400)


TO ORDER:
💬 pick the package you would like then in the blank spot CUSTOM INFO bar type: size of shirt you wear, if you prefer silver or gold...and other facts like your sign, Pronouns, let me know if you're a mom/dog mom, favorite color, or you can be super wild and tell me to snoop on your Facebook and decide what you're into 😂. 
🕺Examples:
•Chingona Box , XL, Virgo, Silver, Dog Mom, Red, I'm a part-time Toxica, part-time Bruja 
• Chiquita BoxGold, Large, Scorpio, Mom of 3 boys, check my Facebook for more
• Chingonota Box, Medium, I'm adventurous AF give me the tacos con todo and check my Facebook, Google my name, if you want to if not just throw stuff in the box and surprise me 😂